Do you have an idea for a novel?
Are you stuck on how to get your ideas on paper?
Have you written a book but feel you're not ready for prime time?
Would you like to perfect your craft?
Do you want to see your publishing dreams realized?
Writing is both an art and a science. The art comes from you. The science comes from the well-established literary world. In order to attract the attention of agents and editors and to satisfy the appetite of your readers, there are some skills you need to master.
In this 4-session intensive program, you will learn:
To develop your story and structure your plot
To write using various points of view
To develop interesting characters
To write compelling dialogue
To create dynamic scenes
To deepen your writing using emotion, tension and conflict
To conquer spelling, grammar and punctuation
Bonus session is all about Publishing and Marketing.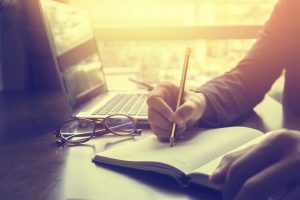 Whether you plan to self-publish or hire an agent to seek a traditional publishing contract, the quality of your writing matters.
New Program starting in January, 2020
Cost:        $250
Limited to 10 people so save a spot today! Registration required.
[ninja_form id=8]
Program is focused on fiction, but skills apply to memoir and short story, too.
This is what a few of my participants said about the program:
"I highly recommend NEPA Pencils Fiction Writers Workshop. 
Participation has given me a whole new set of tools that magnify the impact of my writing. The pace of the class and practice materials allowed me to get familiar with one set of tools before taking on the next set. Feedback from other participants was invaluable in understanding how the new techniques created a stronger message in my writing. Carol is dedicated to making her students successful and goes the extra mile in getting a willing learner to her goals." – Elaine Leet
"I am almost done with Carol McManus' amazing Fiction Writers Workshop. The amount of material she supplies is enough to teach a college course on the subject and, of course, she would be the teacher. She has so much experience and so many insights to help even the most advanced writer. That said, I am at the very beginning of my journey in writing a story that has been with me for a very long time and I feel so privileged to have taken this course before I got very far into my project. This will help me avoid all of the mistakes and pitfalls that first-time writers, invariably fall into. When she calls the fee for the course and Investment, she couldn't have said it better. This has already saved me hours, days, weeks of floundering before finding my message.  
Thank you, Carol" – Dana Bree
"I'm writing this message to shamelessly promote a lade I'm happy to call my friend and mentor, Carol McManus. If you have ever thought to write or even if you are a published author, I cannot endorse Carol and her workshop enough. I have attended two. One on Publishing and Website Design, and this one on Fiction Writing. Carol also leads the most encouraging and inclusive writers' group, Pencils NEPA.
Carol's classes are comprehensive. She is more than generous with her expertise and time and provides all the materials you need for future study and reference. I am so lucky to know and learn from this lady. 
Thank you, Carol. Your friend, student in writing, and admirer." – Deb Durkin